Russell and Bromley, 'Art in the Aftermath'.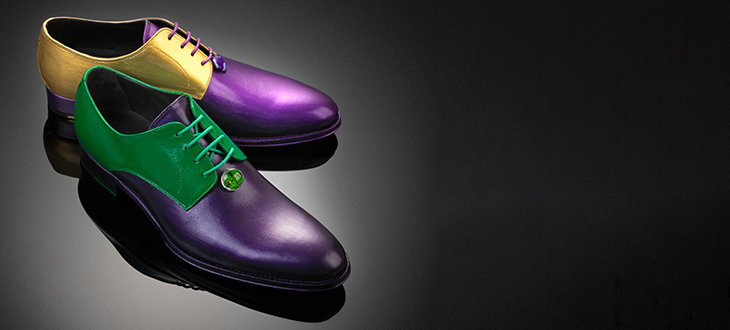 Art In The Aftermath - An Exhibition With Style For Soldiers
Russell & Bromley is proud to support 'Art in the Aftermath', a creative exhibition hosted by charity Style for Soldiers.
Russell & Bromley has been working with Style for Soldiers founder Emma Willis MBE on the philanthropic cause since 2016, helping to dress veterans for job interviews and important occasions on the road to rehabilitation. During the three-year partnership, Russell & Bromley has provided over 100 pairs of shoes to wear with the bespoke luxury shirts Willis makes.
This November, Style for Soldiers is hosting an exhibition to showcase art created by veterans in pursuit of recovery from PTSD and brain injuries retained in action. The 'Art in the Aftermath' exhibit will exemplify how the creative process can help to heal or manage mental injury, give insight to others of the invisible wound and aims to launch new, rewarding careers for the soldier artists financially supported by the charity.
Four veterans have created art out of Russell & Bromley shoes, which will be on display in the exhibition at La Galleria Pall Mall between 6th - 17th November 2018, alongside offerings of poetry and film. Lt Colonel Stewart Hill, Dougie Adams, Martin Wade and Karl Tearney have all painted directly onto the Russell & Bromley 'Plane Tree' classic lace-up derby.
Former serviceman Karl Tearney was discharged from the Army in 2016 after serving for 34 years. Diagnosed with severe PTSD that traditional therapy could not cure, Karl first found solace in writing poetry and later realised that creativity stimulated his mind in a way that many other treatments had not.
Commissioned by company director Stuart Bromley, Karl decided to base his first footwear design on the American military Purple Heart. Inspired by the medal which is awarded to members of the Armed Forces of the USA who are injured in battle, this was particularly important to him as no such medal is issued in the UK despite calls for such. Karl matched the rich, vibrant purple and gold colours of the medal using hand-painted brushstrokes and attaching a small Purple Heart gem to the bottom of each lace.
For his second pair, Karl focused his artwork on the General Service Medal with Northern Ireland clasp. This medal was issued to those who served in the Northern Ireland conflict and he chose to commemorate the era as he felt it has been long forgotten by many. Mixing paints to emulate the green and purple tones, Karl attached a four-leaf clover to these laces. Karl says:
"I do hope that either shoes may represent the bravery of all personnel that serve their country wherever it may be, and I would like to thank Russell & Bromley for allowing me to work with them on this project as it has been extremely stimulating as well as a privilege."
Russell & Bromley and Style for Soldiers invite you to visit the groundbreaking Art In The Aftermath Exhibition from 6th-17th November 2018, La Galleria, Pall Mall, SW1Y 4UY